By Worthy News Correspondents Eric Leijenaar reporting from the Netherlands and Stefan J. Bos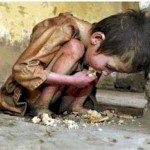 Many children die in North Korea of starvation, aid workers and local Christians say.
PYONGYANG/AMSTERDAM (Worthy News)-- Christians in North Korea said Wednesday, November 25, a massive famine has broken out in their autocratic-ruled nation with many children "dying" while security forces send malnourished people to labor camps for allegedly refusing to join the "100-Day Battle."
"In the province Hwanghae it is again normal to see dead children lying on the streets," local Christians added in statements distributed by Open Doors, a Netherlands-based group supporting persecuted Christians in North Korea and other countries.
North Korean Christians blamed a nation-wide production-drive imposed by the regime of the country's leader Kim Jong-il, known as the "100-Day Battle", for the apparently worst famine in years.
"The people don't get the chance to keep themselves alive," Christians said in comments obtained by Worthy News and its partner agency BosNewsLife. Those seen as not working for the country's interests are immediately send to labor camps, where inmates have been tortured, Christians said.
The new '100-Day Battle', will take the total length of the mobilization period up to the end of the year, and possibly even into early 2010, pro-North Korean media reported.
MORE BATTLES
The publication of the General Association of North Korean Residents in Japan, Chosun Shinbo, reportedly said the latest battle followed  the '150-Day Battle' when "many units have been achieving fruitful results."
"Without slowing down a bit, [the North Korean people will] keep up their vigor during the '100-Day Battle'."
Christians said the latest developments proof that Kim Jong-il is not able to provide enough food to the population. The current famine is becoming similar to the famine of the 1990s when at least an estimated one million people died of starvation, suggested Open Doors spokesman Jan Vermeer. Some estimates speak of "millions" of people.
"We have learned from our contacts [in North Korea] that parents die or leave their children because they can no longer see how their sons and daughters are dying of hunger," he told Worthy News.
"There are whole groups of children roaming through the country. If they are detained by police, they are brought to overfull orphanages where they die. To keep themselves alive, North Koreans are trading at night at illegal markets. The next day they have to report themselves again at their [state] working places," Vermeer added.