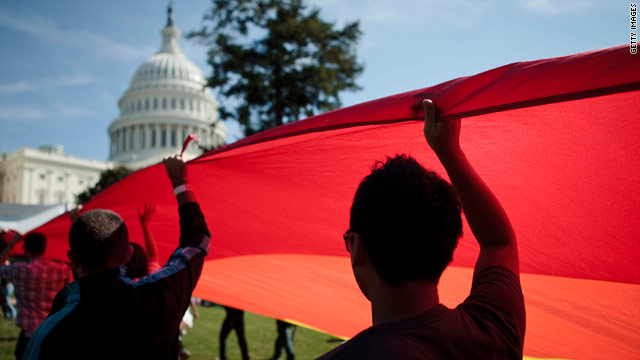 Washington (CNN)
-- The nation's capital city took a major step Friday toward legalizing same-sex marriage.
District of Columbia Mayor Adrian Fenty signed a measure recognizing such marriages as legal. The district council overwhelming passed the bill Tuesday, following a similar vote December 1.
Fenty signed the measure at All Souls Church, a Unitarian Universalist house of worship in the northwest part of the district that is known for its diversity and for the welcoming of same-sex couples.
The measure now goes to Congress for a 30-day review period, but it's considered unlikely that the Democratic majority on Capitol Hill would block the bill. By law, Congress has the right to review and overturn laws created by the District of Columbia's council.
If the measure becomes law, the district will join Massachusetts, Connecticut, Vermont and Iowa in legalizing
same-sex marriages
. A law legalizing such marriages in New Hampshire takes effect January 1.
JMC Ministries Response

Written by: Jeremy and Miranda Caverley

Leviticus 18:22 (New International Version)
22 " 'Do not lie with a man as one lies with a woman; that is detestable.

Leviticus 20:13 (New International Version)
13 " 'If a man lies with a man as one lies with a woman, both of them have done what is detestable. They must be put to death; their blood will be on their own heads.

1 Corinthians 6:9,10

9Do you not know that the wicked will not inherit the kingdom of God? Do not be deceived: Neither the sexually immoral nor idolaters nor adulterers nor male prostitutes nor homosexual offenders 10nor thieves nor the greedy nor drunkards nor slanderers nor swindlers will inherit the kingdom of God.

Titus 1:16 (New International Version)
16They claim to know God, but by their actions they deny him. They are detestable, disobedient and unfit for doing anything good.

Psalm 15:1,2

1 LORD, who may dwell in your sanctuary?
Who may live on your holy hill?2 He whose walk is blameless
and who does what is righteous,
who speaks the truth from his heart

Note: All Scriptures can be found at
Biblegateway.com